8 Waves Waterpark
is located at DRT Hi-way, Ulingao, San Raphael Bulacan, Philippines. Different amenities for the whole family and for corporate gatherings they offer.

8 waves waterpark
was named that way because the owner has 8 children and from the word itself the wave pool can produce 8 different kinds of wave to name a few: Single/double rolling wave, V-wave, inverted wave, Diamond wave which is said to be the biggest among the waves.
8 waves
features night swimming (from 6:30pm to 10:00pm), volleyball court, Billiards, Mini-golf course, function hall, wave pools, hydro jet bubble pools, and click. Bringing foods and alcoholic beverages are not allowed. Also, I heard they don't have wifi.
8 Waves Entrance Fee
: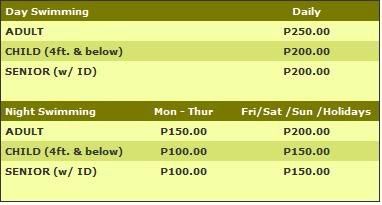 For reservations, just call
299-8234
(for Manila Area) / 742-0063 and or (044) 766-5268.
How to get to 8 Waves?
By Bus
:
Ride Baliwag Bus north bound in EDSA Cubao. Request the bust conductor to drop you off in Baliuag (in front of Jollibee or Pizza hut) or simply tell the driver to drop you off where you can ride tricycle going to 8 waves. Once you're there ride tricycle and tell them to bring you to 8 waves.
For more details, you can visit
8 Waves Waterpark Website
at
http://www.8waveswaterpark.com.ph/